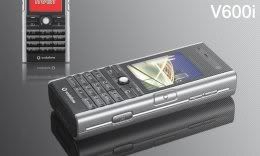 On Tuesday [9th], I finally decided to buy my first mobile phone. Mainly because they now increasily act and feel like pocket PCs.
I wanted one compatible with the
ShoZu
service, and so from Tesco in Aberdeen, I purchased a
Sony Ericsson V600i
, for £99.99. (And also an
Epson Stylus D68 Photo Edition
printer, and 100 sheets of HP photo paper.)
The phone has a 176x220 resolution, 1.3 megapixel camera, plays mp3s, Bluetooth, infra-red, has USB and a cable provided, Java, radio, and a light for taking night photos.
Really the phone's only shortcoming is its limited storage space and no memory card option. There's roughly 20Mb, plus whatever all the files that comes with the phone, takes up. Aside from that though, the phone is fairly excellent.